Contact Info
Novin Development
1990 N California Blvd Ste 800
Walnut Creek, CA 94596
p: (925) 344-6244
f: (925) 344-6436
info@novindevelopment.com
Recent News
Wall St Inn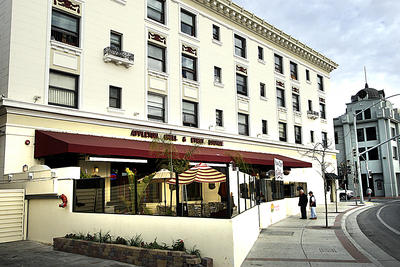 30 West Beach Street, Watsonville, CA 95076, USA
Residential/Commercial Property
Property Type: Multifamily
Property Sub-type: Garden/Low-Rise
Additional Sub-types: Street Retail – Retail (Other)
Description
Historical Wall Street Inn designed by William Weeks has been restored to its original grandeur. Street level spaces available include Unit A-2229 SF Appleton Grill restaurant with sidewalk patio dining, historical ballroom, and adjacent bar.
Located in downtown Watsonville near the new government center, Cabrillo College, transit center, post office and much more. Convenient parking garage located across the street. Right in the center of the planned "Entertainment District" of Watsonville. Elementary school located nearby at corner of Lake and Rodriquez.
Details
Price: N/A
No. Units: 70
Building Size: 31,956 SF
Property Type: Multifamily
Property Sub-type: Garden/Low-Rise
Additional Sub-types: Street Retail – Retail (Other)
Property Use Type: Investment
Year Built: 1920
Designed By: William Weeks
Note: On Historical Register
Description
Four-story building
70 apartment units
4 commercial units
Elevator
UNIT AMENITIES
Wood cabinets
Gas Stoves
Refrigerator
Steam Heater
Studios have closet space
In the heart of downtown Watsonville
Immediate access to Routes 152 & 129
Easy access to Highway 1
Walking distance from Shopping Malls
Near Watsonville high school, public parks and playgrounds
Walking distance from public Library
Close proximity to Cabrillo College
History
Hotel Appleton
Watsonville
California

1912 Watsonville…. Early 1900's and the apple was King! Celebrations abounded, with the annual Apple Festival bringing in hundreds of visitors to Watsonville. With week-long festivities downtown, the surrounding area reaped the benefit. It was then the Appleton Investment Company was formed, architect William Weeks engaged to build the finest hotel in the area.
So it was that Hotel Appleton was born. The new hotel was billed as "One of the finest interior hostelries in the State of California. Modern in every last particular, equipped with all the latest features of a twentieth century hotel, and built in artistic and picturesque fashion, the Hotel Appleton will stand as a monument to progress and prosperity in the Pajaro Valley."

Hotel Appleton became the jewel of Watsonville, Every one of the 96 rooms was on the outside, half with private baths, and each room was provided with steam heat, electric lights, hot and cold running water and telephones. The cuisine in the dining room of the Appleton was of the best.
At the Grand opening in August of 1912, more than 300 people sat down at two sitting to a meal consisting of royal consommé, Russian caviar, boiled stripped bass, Appleton rum punch, roast squab, game patties, roast young turnkey cranberry sauce, peas, asparagus, strawberries, ice cream, cake and coffee. The room was festooned with American flags, plus potted plants and beautiful floral arrangements.
The Pajaronian noted, "Another progressive and lusty baby has been born to Mother Watsonville, and it is a husky infant at that. We mean the new Hotel Appleton, which so excellent feasted and entertained several hundred of the best citizens of the state within its hospitable portal. The Hotel Appleton in its grandeur and its beauty will be a landmark in this valley for years to come."
During the Apple Annual in October of that year, the new hotel was bursting at the seams as the many visitors streaming into town for the weeks'; festivities now had a new place to stay. In July 1913, the Hotel Appleton became the owner of an automobile omnibus, which met all trains at the Watsonville Depot. It was a Kissel Kar machine, painted brown with French Roman lettering and fancy scrollwork on the outside. Its appearance on the streets of Watsonville caused quite a stir!
We Want To Hear From You
Would you like to learn more about our properties or development projects? Contact us today!
Contact Us