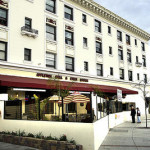 The new Appleton Grill offers delicious, home-cooked dishes in a relaxed, comfortable setting, harkening back to 1912 when the original Appleton Grill opened its doors. The traditions of preparing time-honored recipes with fresh local ingredients and friendly services live on.
Opened in June of 2013, the Appleton Grill features distinctive pizza recipes, fresh Caesar salads with real anchovy dressing, homemade chili, Philly cheese-steak sandwiches, and other unique dinner choices. We also offer draft beer, English Ale, and a delightful selection of specialty wines. Be the first to introduce your friends, family or co-workers to our special dining experience.
A New Restaurant at a Legendary Landmark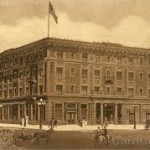 Located in the same building where the historic Appleton Hotel once operated, the Appleton Grill restaurant and Grand Ballroom carry on the name with pride and grandeur. One step into the newly renovated Ballroom and you'll see why owner and restaurateur Abe Novin of Watsonville fell in love with the property and dedicated himself and his company to restoring and renovating it. With cathedral ceilings, stately pillars, marble wainscoting, and breathtaking sky lights, the Ballroom is a wonderful tribute to the original purveyors of the Hotel Appleton which opened on the premise in 1912.
Events and Catering for Every Occasion
The Grand Ballroom is available for corporate events, weddings, rehearsal dinners, private parties, holiday celebrations, family reunions, high school reunions and Quinceañeras. Designed with turn-of-the-century elegance in mind, and modernized with smart A/V and tech capabilities, the Appleton Grill Ballroom is the ideal location for special meetings and events. You can also rent the venue for smaller gatherings such as Meetups, club meetings, or to watch televised sporting events. Our Chefs will prepare a custom menu for your group that will fit any budget. Our Special Event Planner will help you make sure every detail is addressed before the event begins. Give us a call today or come by for a visit and see why the Appleton Grill is the perfect location for memorable events. You'll find more information about events on our Events Page.
If you're planning an event at your home or at another location, and need a caterer, please take a look at the catering menu on the events page. We'll make sure to impress your guests with the finest ingredients in our delicious entrees, appetizers, sandwiches, and desserts. No matter what the occasion, you'll find the perfect selection to suit your taste and budget.
Come visit us at the Appleton Grill for breakfast, lunch or dinner. We'll make sure you enjoy your visit and have a wonderful meal. We're never satisfied until our customers leave happy.